Dove Tree Residents take part in 'Spark Something Good' at Marks & Spencer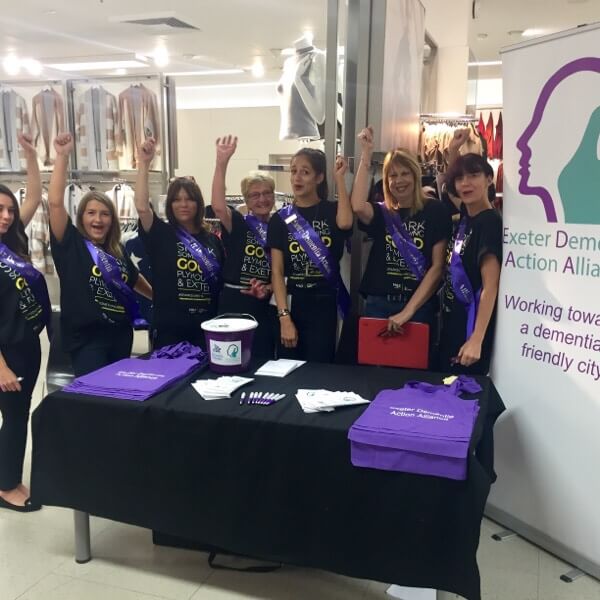 M&S colleagues and customers came together and donated their time to support their local communities. 12 in Exeter and 12 in Plymouth. The Exeter Dementia Action Alliance were selected as 1 of 12 chosen community groups to take part in Exeter. Gina Awad leading the Exeter Dementia Action alliance shares the event and the difference it made to people living with dementia. "We were delighted as a local alliance to have received the phone call asking us if we would be interested to collaborate in the #SparkSomethingGood project. Marks & Spencers as a leading store in the High Street were high on our agenda to join the alliance.
For the past month we have been working hard towards our event. Our project saw 9 people living with dementia have a personal in-store shopping experience with volunteer M&S staff for up to 90 minutes. They all received a £15 gift-card voucher towards their purchases as well as complimentary lunch in the Cafe. We invited 3 Care Homes to take part as well as attendees of the local Memory Cafe". City & County Cllr Emma Morse's grandmother Anita lives with dementia and also took part, she said "it was wonderful, I met some wonderful people and I wish I could take them all home with me".
One particular highlight was for Sylvia who resides at Dove Tree House, she worked at M&S for a number of years and the greeting she received on arrival was so emotive. She was delighted to reminisce and spend time in store with staff who used to be her colleagues.
We had the opportunity to raise awareness of the alliance at the front of the store offering promotional leaflets, shopping bags and pens to give away. Being able to chat and generally engage with the public about our work in the community was really important and allowed us to hear personal stories and experiences which will help support our future strategy said Gina Awad of EDAA. A particularly valuable aspect was to include people living in residential care as well as those living in the community. We invited Parklands Care home, Green Tree Court and Dove Tree House. Parklands Care Home explained how thrilled the family members were that their parents had this opportunity in the community and said "we made sure we gave them some extra spending money so they could treat themselves". David Barenskie, Head of Dementia Care at Green Tree Court said their resident arrived home "one happy shopper full of the joys of Spring".
After their shopping experience tables were reserved in the Cafe for the participants to enjoy lunch or at their leisure. Taxis were provided to and from the store. Allowing the participants quality one to one support provided a meaningful connection which is essential for us all but especially for those living with dementia. Dakota Ferrera, Project Host of M&S said "it truly was a memorable event for myself and the volunteers, we thoroughly enjoyed being able to make a difference. We now have a link with the alliance and plan on growing our partnership"