Dedicated member of Stonehaven team clocks up 25 years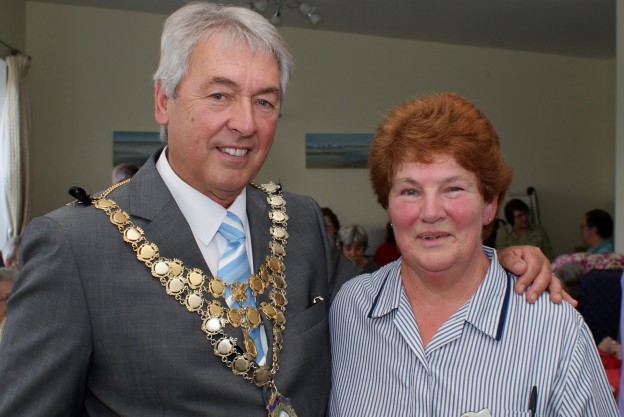 On Wednesday 2nd October 2013, The Mayor of Northam Barry Mason , presented an award to Christine Waters for the length and quality of her service to residents at Donnington House,  part of the Stonehaven Care Group.  The Mayor was joined by: Christine's husband, Alan Waters; family; friends; residents; staff and the Directors of Stonehaven. Christine Waters, who has been with Donnington House, for 25 years, first worked in Barnstaple on the pharmacy side of Boots.  Whilst at Boots she married and then took 7 years off work to care for her young children. She then returned to work as a cook at Skern Lodge which catered for 80 – 100 people a day.  From there she worked at a nursery for children.  While she was working there, her brother in-law, Tony, was doing some maintenance work at Donnington House and informed her that they were looking for someone to work in the laundry.  Chris applied and got the job. It was from here that Christine got "talked into" becoming a care assistant.
Chris started as a care assistant in October 1988 completing her NVQ2 in dementia care ,food hygiene certificate, level 2 medicine, level 3 palliative care and level 2 first aid.  She also holds an NVQ and keeps herself up to date with all mandatory courses.  Chris has worked her way up to the position of senior carer.
She is constantly busy and has a wonderful sense of humour creating a happy atmosphere even at moments which could otherwise be stressful.  Although Christine enjoys looking after all the elderly clients and liaising with GPs, community psychiatric nurse and district nurse,  she is looking forward to her retirement and has begun to cut down her working hours. She is still a most valuable member of staff who is liked and respected by all who meet her.
CONGRATULATIONS CHRISTINE!