Care Home Group of the Year: Caring UK Awards 2018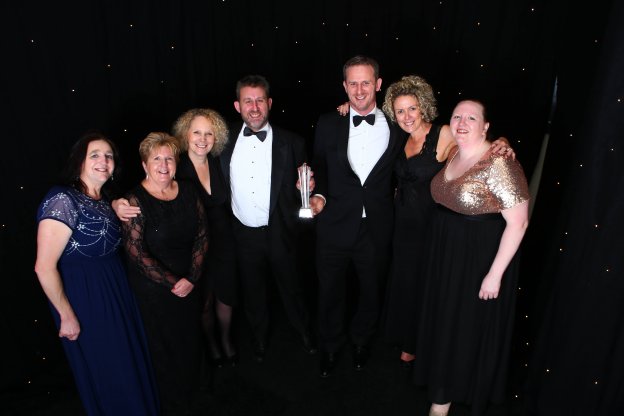 On Thursday evening last week Stonehaven was awarded the National 'Care Home Group of the Year' award at the UK wide 'Caring UK Awards'. It's fantastic to have been recognised for the great work that we do. The nomination process for the award was rigorous. It began with a 5-page detailed nomination process. Emily and myself were then interviewed at the Support Office. This was comprehensive. It was clear that the competition was tight and that the judges were looking for those things that would make us stand out from the crowd. Following this interview judges visited a number of our Care Homes and noted what they were like, interviewed people etc.
We were finalists for National 'Care Home Group of the Year' as a company and National 'End of Life Team of the Year' for the fantastic end of life work that is carried out by the care team at Chollacott House. Over the past few years we have achieved and maintained registration in the  'St. Lukes 6 Steps End of Life Care' scheme – this involves a significant investment of time, effort and expertise from the Care Team at Chollacott.
To have won the Care Group of the Year Award was fantastic. Following the award one of the judging panel confided in Emily that, as a company, we really did stand out from the rest. The panel noted our commitment to 'putting the customer at the centre of all that we do' and recognised how we do that; by employing the right people and then providing the right training and support to them. It was clear that we prioritise people.
We were described by the judging panel as 'A confident, customer led group with a winning formula' – with which we fully agree.
Winning Awards is only possible because of the great work carried out every day by every member of the Stonehaven Care Team – thank you all for making this possible.