A New Look for our Care Team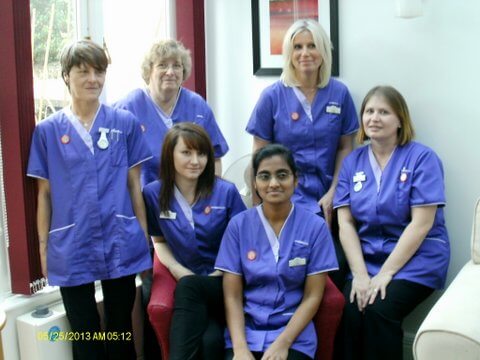 This week has seen the launch of our new uniform. We were keen to continue to create more homely environments and become less institutionalised.  The way our care team looks is a very important element in this. We considered a non-uniform approach, but our residents felt it was important that their carers were easily identifiable. So, we have gone for a less 'traditional' tunic in a vibrant purple, a colour believed by researchers to be the most relaxing, calming, yet creative.
To enhance the new uniform, we have developed a pin-badge to wear on the right-hand side of the uniform identifying individual employees as 'Care Jewels' (In the "They're all such gems" sense) but not based on any exam, test or qualification.The Stonehaven Care Jewels concept has been developed in order to:
1. Achieve some more 'direct connections' with individual employees to show we value each one;
2. Remind and strengthen a sense of individual duty and pride-in-the-job;
3. Seek and apply any useful way of setting Stonehaven Care Group well apart from and well above the run-of-the-mill competition, in a form that could be immediately noticed, mentally registered and effortlessly remembered by all and especially the outside world.
4. Raise morale and enhance individual carer's job enjoyment and satisfaction; with a view to that radiating out from them and so presenting an exceptionally 'happily-busy-at-care' image to the world.
The 'Care Jewels' concept sits well alongside 'The Jewels of Dementia' as presented as part of the 'All About Dementia' training course delivered to Stonehaven. The jewels program is belief in an idea, that we can give excellent care to people with dementia, and it is easy to do so if we have the empathy and skills required. 'Care Jewels' do not think outside the box, for Care Jewels, there is no box.
The new uniform is being trialed at Kent House, Okehampton with a view to rolling it our across all of our homes in the New Year.